BLAHM! BLAHTTITUDES  – 2011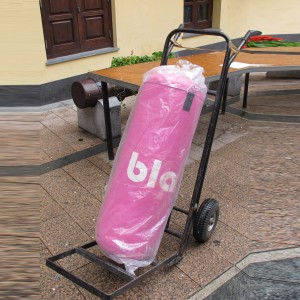 "SOMEWHERE AND NOW"

"AILLEURS ET MAINTENANT" – Consommé d´artistes III – Exposition performances

Commissaire du projet: Kristina DEPAULIS
Galerie Lavitrine / Limousin Art Contemporain & Sculptures. Limoges. France
BLAHM! BLAHTTITUDES ( Bam! Attitudes )
eVe ARIZA> Let´s blahm the blah! ( Let's bam the blah )
http://centrifugeve.wix.com/blamblattitudes#!
Blahm! to  BLAH with BLAH ( Bam! to blah with blah )
BLAH TREATS THE (IM)-POSSIBILITIES OF DIALOGUE CARACTERISTIC  TO THE HUMAN BEING.
I wrote this blahphony ( symphony )  for the project "SOMEWHERE AND NOW" ( AILLEURS ET MAINTENANT – Consommé d´artistes ) around the concept blah,  using experimental sessions of punching-blah and online direct conexions with blahrtners ( partners ).
All of this with the idea to establish a participatory relationship in images and to collect speeches that will  be gived back posteriorly
All the project is articulated around a pink punching-bag ( punching-blah) that embody the concept BLAH, relative to the blah blah blah.
Some of this interventions are realized on invitation by people who doesn't practise this combat sport, some other people are  professionals fighters. Other casual persons are involved in the project when the punching-blah  is installed in the urban space.
All of them are invited to practise the punching-blah as they feel it.
This interventions are some of them recorded, others are captured spontaneously and send back on live, but all of them are send to a website, famous for encounter and exchange, I will call it for the moment "BLAHROULETTE"
SHARED BLATTITUDES
Let´s see if we are good BLAHrtners (partners) or not and if the experience Blahm! Blahttitudes open up a dialogue.
PUNCHING-BLAH – LET´S BLAHM THE BLAH!
Free practise of punching-blah
Blahm! blahttitudes
Collected pictures about the punching-blah in my studio, in the public space,  with the special collaboration of the Andorran Federation of Krav Maga and with the improvisations of  Carine Desset and the dancer Meritxell Martin.
BLAHRTNERS
Connected to a partner.
You: blah
Partner: blahblah
You: blah blah
Partner: blahblahblah
Looking for a partner…
Next (F2)

SHARED BLAHTTITUDES 
Recorded Blahphonies on the website that I call for the moment Blahroulette.
Blahrtners looking for blartners.
Blahming Blahttitudes! Or how to fight against blah using blah
Experimentations realized through the meeting website  http://chatroulette.com/,  favourable to direct and aleatory enconters online.
VIDEOS
With the improvisations of the dancer Meritxell MARTIN.
With the improvisations of  the members of the  Andorran Federation of  KRAV MAGA.
http://www.youtube.com/watch?v=9dfPURPyUC4
http://www.youtube.com/watch?v=5uorhT2rHQ8
http://www.youtube.com/watch?v=d7T9HOFfZj8
>>see more videos: youtube BLAm BLAttitudes
———-
http://centrifugeve.wix.com/blamblattitudes#!
http://consommedartiste.hyperreel.net/?lang=fr
http://consommedartiste.hyperreel.net/?author=2&lang=fr
—-
 " Eve Ariza engages in caustic and committed interference by turning the wind flow communication that overwhelms us, as a work support. The "blah" * pushed into their trenches, are left to be devoured, crushed, abused and paradoxically loved. A website show the different experiences with what she calls the  "punching-blah " a pink punching-bag  stamped  with the word"blah" in white. The object is located in the exhibition hall as a call to reaction for visitors. Performance is thus multiplied in space and in time." K; DEPAULIS.