Dolls cutouts, Dorada Reig
Ninetes retallables la Dorada Reig
2015/2016
TABACCO MUSEUM, old Reig Tobacco Factory in Sant Julià de Lòria, ANDORRA
UNA ALTRA MIRADA ES POSSIBLE Project.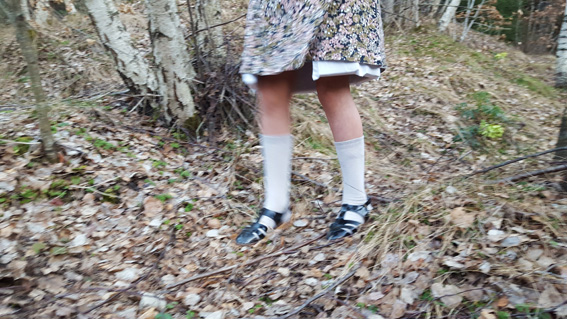 Eve Ariza's project aims to be a revision and a complement to the historiography of the Tobacco Museum as it introduces a forgotten side of the history of tobacco in Andorra; the women's role and the part played by young girls in the smuggling of the product. Her intervention fits the musicological space, specifically the room dedicated to the Manufacture and the products made in the former Reig Factory. This intervention refers to the contraband done by the children in Andorra, represented by one of the many designs of subsistence and consisting of one of the exhibited objects: a skirt made out of tobacco – or out of contraband – with its respective packets of tobacco. On the wall, one can see a sheet of retro looking doll cutouts that shows up a tobacco skirt, a dress and interchangeable complements. In this case, the artist has set herself the task of going through her own family memories. For this reason, she has talked extensively with other family members, who have dedicated their time to these remembrances. One of her aunts has carried out the remaking of the dress at the same time as trying to recollect some of her memories. Furthermore than the historiographical interest, this project introduces poetry, tenderness and innocence to the historical context of contraband, and takes into account the hard situation of necessity that the immigrant families endured in this far away époque. (Juana Baygual)
Context: The Tobacco Museum The tobacco museum is a museum space in which is represented the farming, the process and transformation, and finally the manufacturing of the tobacco that finally reaches the consumer. An industry firmly rooted in Andorra and that has represented an economy of sustenance, during not so far away times, and was very important to the families of the country. The projects exhibited address the women's role in this society, from the point of view of supporting the family economy as from being potential consumers in this consumerist society in which we live in.